In the News
____________________________________
Intern (Cybersecurity)
The Broward County Board of County Commissioners is seeking qualified candidates for Intern (Cyber Security) in the Cyber Security section of the Enterprise Technology Services Division (ETS).
This is a part-time, 19 hours per week, non benefit-eligible position.
This Job Announcement will remain open until a sufficient number of applications are received .
General Description
Performs support duties in an agency in order to gain knowledge, skills and professional experience.
Works under close to general supervision according to set procedures. Work is reviewed through observation of performance, frequent conferences and reports.
____________________________________
More Undergraduate and Graduate Student Opportunities
____________________________________
Mini-Math Day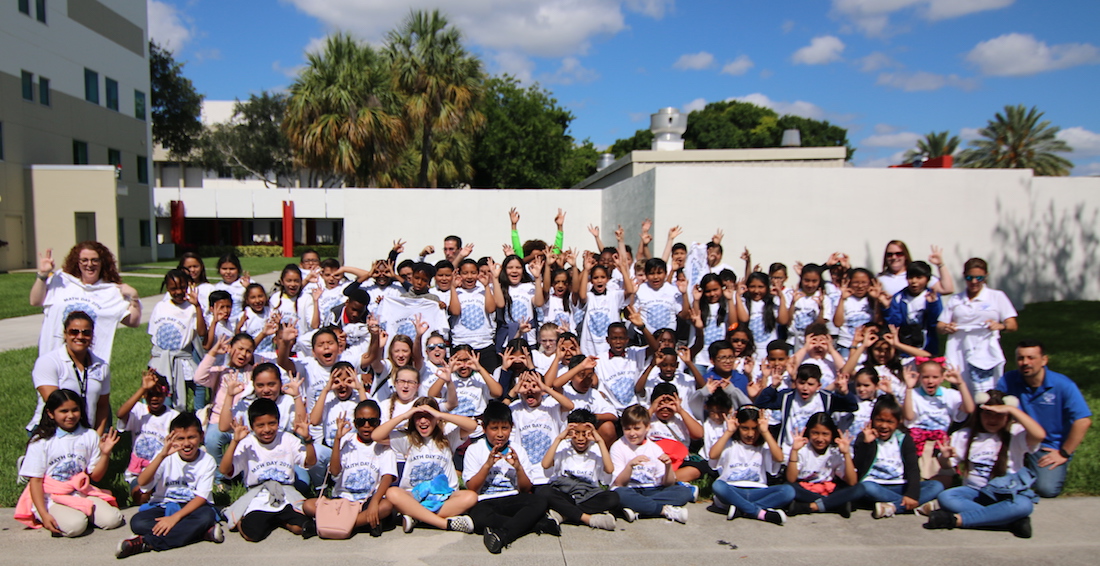 The Department of Mathematical Sciences hosted approximately 100 fourth grade students from Belvedere Elementary in West Palm Beach on May 17, 2019 for our Twelfth Annual Mini-Math Day!
The program began with a welcome and a short quiz followed by Dr. Tomas Schonbek's team contest. After lunch, students will be treated to an educational demonstration presented by former science teacher Glen Govertsen. The demonstrations, part of the "Mr. G Science Show," combines the dynamics of music, lasers, raw eggs, fiber optics and other materials with clear explanations to motivate students in science and mathematics.
Educational mathematics game prizes were awarded to both individual and team competition winners.
Photos from our events will be posted on our college's Facebook Page. Search for FAU Charles E. Schmidt College of Science and LIKE our page!
Our previous participating schools were:
Tradewinds Elementary School (4th Grade), Coconut Creek in 2018
FAU Henderson School (4th Grade), Boca Raton in 2017
Poinciana Elementary School (4th Grade), Boynton Beach in 2017
Whispering Pines Elementary School (4th Grade), Boca Raton in 2016
Castle Hill Elementary School (4th Grade), Lauderhill in 2015
JC Mitchell Elementary School (4th Grade), Boca Raton in 2014
Hidden Oaks Elementary (4th Grade), Lake Worth in 2013
Indian Pines Elementary (4th Grade), Lake Worth in 2012
Sandpiper Shores Elementary (4th Grade), Boca Raton in 2011
Nova Blanche Forman Elementary (4th Grade), Davie in 2010
Del Prado Elementary (5th Grade), Boca Raton in 2009
Banyan Creek Elementary (3rd Grade), Delray Beach in 2008
---
For further information, or if you are a teacher and would like to find out how your class can participate in this program, please contact:
Ms. Emily Ann Cimillo
Phone: 561-297-3342
Email: ecimillo@fau.edu